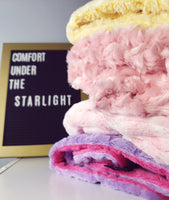 Welcome to Starlight Minky!
-Made only with the highest and best quality minky.
-Our products are all professionally sewn by grandmas and moms in the U.S. using industrial-graded sewing machines to provide the greatest possible stitch.
-Our sizes:
Chibi : 30" x 36"
Throw : 50" x 60"
Adult : 60" x 72" and 60" x 90"

-All blankets that are in stock will ship in 1-2 business days with USPS/UPS.
-Find out why minky is the best blanket to snuggle up with today!
Explore our blankets
Reviews
"They are absolutely amazing! They have GREAT customer service!! I have a super weird work schedule and they always reply so quickly no matter what time it is. The blankets are made from high quality material and they are super quick on customs. They definitely have a forever customer right here!"

Courtney S.
"I've have ordered many customs blankets with these fine young ladies. Customer service was the best I've seen. They are more then willing to work with you.
Let's talk about these prices. OUTSTANDING!!!!!! AFFORDABLE!!!!!!!!!

Dawn T.
"I recently purchased a navy Luna on navy frosted hyde. This blanket is a beauty and one of the softest I own now! It's beautifully sewn. Not a single flaw. Excellent prices and fast shipping! Thank you Starlight! I will be buying again!"

Sarah M.
"Received my first Starlight Minkys today and they are absolutely amazing. Very pleased with both blankets and the quality is excellent. One was my first Bunny purchase and now I have a new favorite... OMG 😱"

Rachael B.
"They make the most beautiful blankets I've ever seen. Fast shipping and also offer coupon with every purchase!! Love this company!!!"

Carla N.
"Just got my first blanket and I'm now obsessed! Starlight was amazing at helping me find the perfect one to help with my nerve and muscle pain. They were patient and great with all my questions. I highly recommend them! Also their prices are far more affordable than most"

Amber F.
These ladies are doing it right for the customers. 5 stars all the way. ⭐️ 🌟 ⭐️ ⭐️ 🌟 Keep being the fabulous company that is growing.
This is a very calming company to order from....
There blanks are Sewn very straight and tight. They use professional sewing machines. Which does make a difference."

Dawn T.